Ebay Winners
WELCOME to gatefold.com EBAY WINNER
Locate your EBAY username and your winning item should be listed with the TOTAL winning auction bid
(including S & H). In order to provide you with Credit Card Service for the Mature Category on Ebay, we make it as simple as possible. Just follow the regular SECURE checkout process we provide here, and you will recieve a confirmation and invoice via email, with real-time approval for your purchase.

Any questions, please use the CONTACT FORM and include your winning item number and bid or you can use the LIVE HELP button in the LEFT Column

Thanks for using GATEFOLD for your collector needs.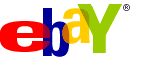 There are currently no products listed in this category